Environmental Education Center Project
Why We Must Do This
Provide Conservation Education
Staff and volunteers reach more than 20,000 people annually, providing outdoor learning experiences to students of all ages.
Attract Economic Development and Tourism
The Center will be a significant tourism attraction and welcome center for Jasper County, as well as a hub for promoting the use of all Jasper County Conservation areas.
Promote Sustainable Living
Jasper County has defined itself through the production of renewable resources from wind energy to biodiesel. This education center demonstrates conservation and sustainable design through the use of photovoltaic cells, passive solar energy, geothermal, and a living roof. Fulfill a Conservation Dream– This project has been discussed for more than 25 years by past and present conservation community leaders. Now is the time!
What Our Environmental Education Program Does For Jasper County
Awaken curiosity about the natural world and involve people of all ages in the outdoors
Enhance the quality of life by creating an improved conservation ethic
Introduce outdoor learning and emphasize best management practices while providing discussion focusing on ecological diversity
Provide conservation programming for schools, civic groups, and the general public
Present classroom programs as well as presentations and field demonstrations
Reach out to all ages, from preschoolers to seniors, to help keep individuals active and continually learning
Making the Dream a Reality
The cost of the building and the site development is estimated at $2.2 million. The Conservation Board will seek local, state and federal grants for the project, but is also seeking individual and corporate one-time donations and multi-year pledges. It is our goal is to have the money raised within five years.
How to Donate
Your tax-deductible gift may be a one-time donation or a pledge over several years. You may designate your gift in honor or in memory of a loved one, a gift of $1 million or more will allow for building naming rights. As a legacy, your donation will continue to serve the public well into the future, as Jasper County residents and visitors to the area will enjoy the facility on a daily basis for years to come!
Jasper County Conservation has partnered with the Jasper Community Foundation in order to facilitate the receipt of tax-deductible gifts. Contributions can be made to:
Jasper Community Foundation
c/o Environmental Education Center Project
PO Box 1332
Newton IA 50208
The Planning Process
In May 2009, the Jasper County Conservation Board began laying the groundwork for what is expected to become the crowning jewel of the county conservation system. The facility, a longtime dream of numerous Conservation Board members dating back 25 years, would serve as a hub for the county conservation department and create a destination point for visitors, students, local groups and civic organizations.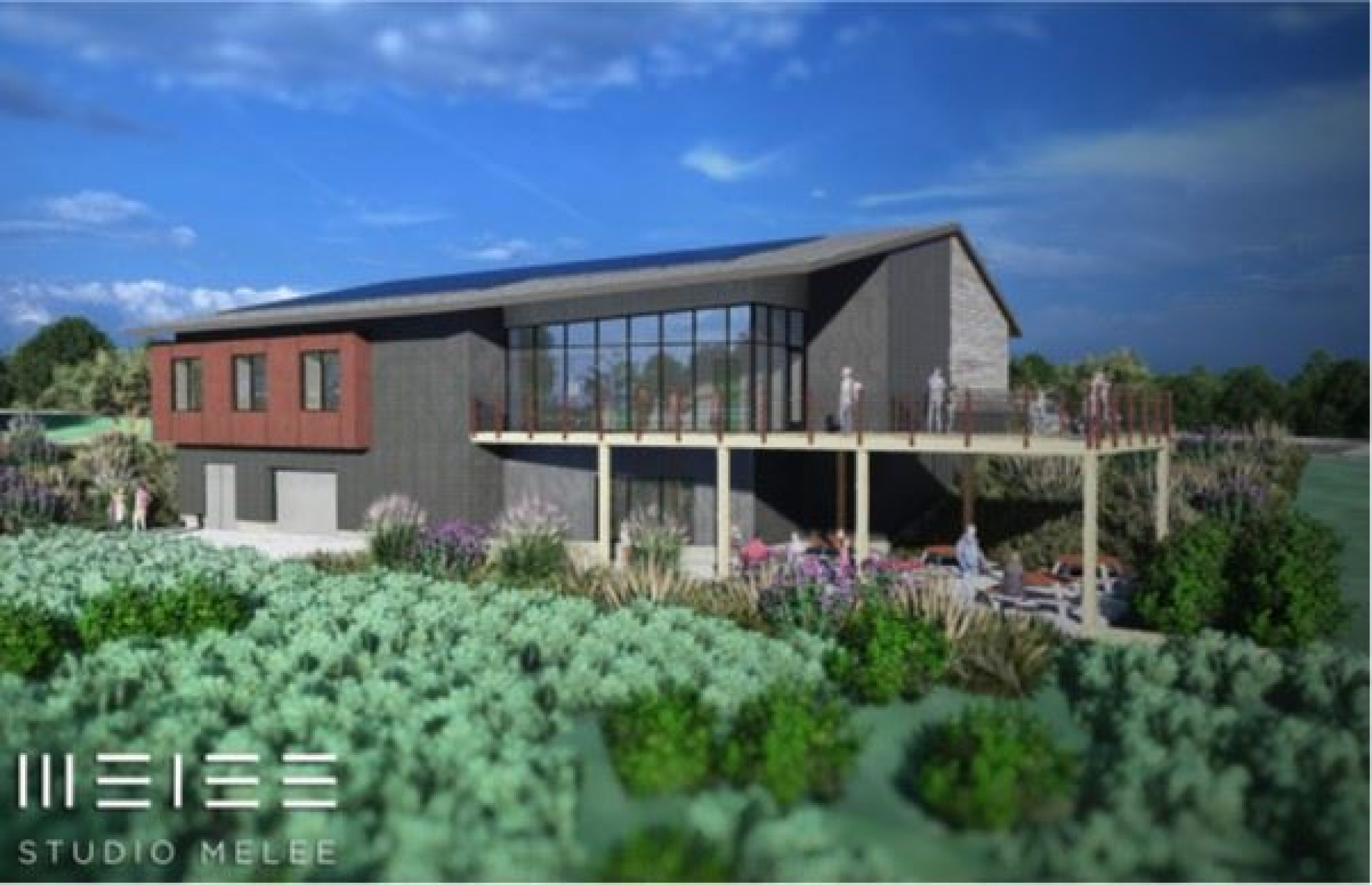 Jasper County Conservation Board members and staff conducted thorough research before coming forward with a plan. Board members hired consultant Jim Pease to help determine the needs and goals for this project and then investigated several sites around the county for the location of the Nature Center. Finally, it was determined that the nature center's location should be at the old county care facility park, located east of the Iowa Speedway on the north side of Liberty Avenue. The property, just off of Interstate 80 and centrally located within the county, holds many natural amenities that have been deemed necessities for this project, including native timber, a pond, an unplowed pasture/possible native prairie area, and a spot for an additional pond. In addition, the land is consistent with Jasper County Conservation Board values: take neglected land, and restore its natural conservation value. The 40-acre parcel of land is being generously donated to the Conservation Board by the Jasper County Board of Supervisors.
The Site Plan
The 40-acre site plan includes two ponds, a sculpture walk, a community garden, a natural playscape, a wetland exploration area, a natural amphitheater, shelterhouse, a soft trail system, prairie restoration, and group camp area.
The Sustainable Design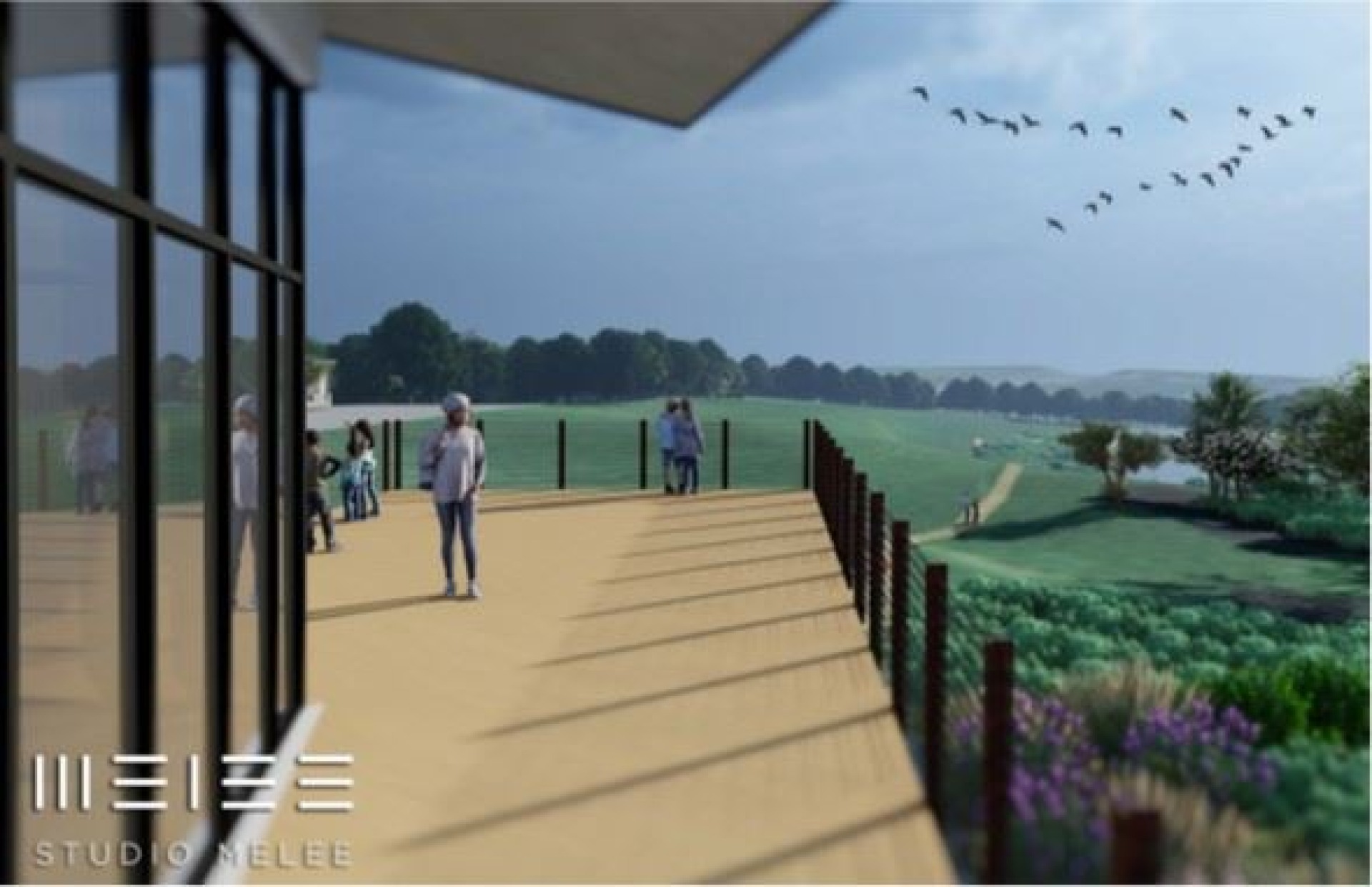 The Environmental Education Center is being designed by architect Jamie Malloy of Studio Melee, and will be a state-of-the-art facility that will offer research, education and family uses. The building is approximately 7,200 square feet and will feature flexible spaces for display areas, a laboratory, classrooms, storage, kitchen, outdoor viewing platform and offices. It will also serve as a community venue capable of holding events for as many as 400 people.
Not Just a Building!
The facility itself will serve as an educational tool by demonstrating environmentally sustainable construction and operational practices that will reduce our carbon footprint and teach about the impact of green energy on climate change. The 40 Acre Site Plan for the area includes the construction of 2 ponds, a handicapped accessible paved sculpture walk, community gardens, natural playscape, wetland exploration and education area, amphitheater for outdoor education programming, shelterhouse, soft trail system, group camp area for scouts and other youth groups, and a prairie restoration.
Environmentally Sustainable Construction & Operational Practices
The building has been designed with green energy in mind, and with the installation of a photovoltaic array that could generate enough energy to essentially operate "off the grid". Building mechanical, plumbing, and lighting systems will be extremely efficient and construction materials will be durable, low maintenance, and environmentally friendly. Local products will be utilized to the greatest extent possible.